Brief Introduction of Ball Mill
Ball mill is the key equipment for re-grinding the materials after they are coarsely crushed. It is widely used for the dry or wet grinding of all kinds of ores and other grindable materials in the production industries of cement, silicate product, new building material, refractory, fertilizer, ferrous and non-ferrous metal dressing and glass ceramics. There are two types of ball mills produced by Hongxing Machinery: overflow ball mill and lattic ball mill. While according to different sizes, ball mill can be classified into large ball mill and small ball mill.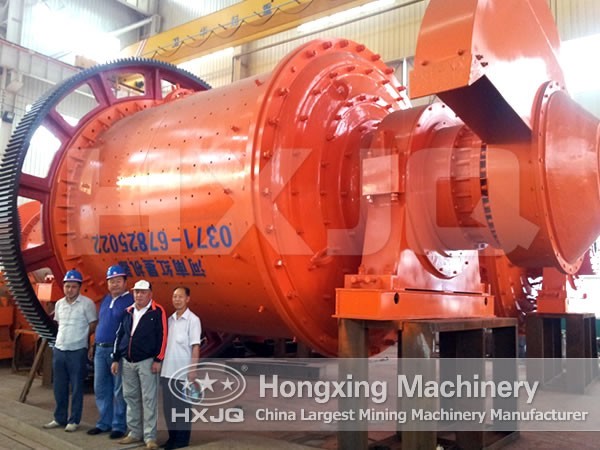 Structure of Ball Grinding Mills
The ball mill machine is composed of feeding part, discharging part, turning part and driving part (reducer, small driving gear, electric motor and electric control). The quill shaft is made of cast steel and the liner is detachable. The turning gearwheel adopts casting hobbing process and the drum is equipped with wear-resistant liner which has good wear-resistance. The machine is with stable and reliable working condition. Moreover, according to different materials and discharging methods, there are dry ball mills and wet ball mills for choice.
Working Principle of Ball Mill for Sale
This machine is a horizontal type cylinder rotary device and outside the cylinder there is drive gear which drives the cylinder to rotate during the working process. Materials spirally and evenly go into the first cabin of the grinding machine through the feeding hollow shaft from the feeding device, and inside the first cabin, there are ladder lining boards or ripple lining board in which there are many steel balls with different specifications. The cylinder rotates and produces eccentric force to bring the steel balls to a certain height, and then the steel balls will fall down to impact and grind the materials. After being coarsely ground in the first cabin, the materials will go through the single-layer partition board and into the secondary cabin in which there are flat lining board, and in the lining board there are steel balls to further grind the materials. Finally the powdery materials will be discharged from the discharging grating bar to complete the powder grinding process.
Leave us a message below to get ball mill prices?